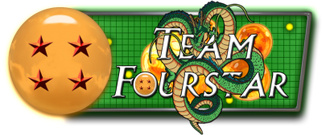 Team Four Star is the creator of Dargonball Z Abridged Parody, which is a well known abridged series on Youtube.
History
Team Four Star Joined Youtube on May 25th, 2008, and have made 27 episodes since then, along with 1 movie and music video.
Team Four Star currently has 60 over all uploades on youtube, seeing how the put extra videos on their website, and a lot of their videos were taken down due to copyright, but their videos are still on their site.
Members of Team Four Star
Ad blocker interference detected!
Wikia is a free-to-use site that makes money from advertising. We have a modified experience for viewers using ad blockers

Wikia is not accessible if you've made further modifications. Remove the custom ad blocker rule(s) and the page will load as expected.