Chi-Chi is the wife of
Goku
and the mother of
Gohan
. She can be very nice and understanding at times but she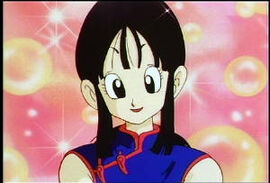 usually puts Gohan and his studies first, as her main priority. In the TFS Abridged Parody, Chi-chi makes few entrances and when she does, it usually has something to do with Gohan. In the parody, Chi-chi is also viewed as a horrifying woman. Such as when Krillin was scared to tell her that Goku was dead and Gohan was kidnapped by Piccolo, and Chi-chi proves a point to be scared by saying that if that really happened she would kill the messanger (being Krillin).
Wife of Goku and mother of Gohan. Obsessed with Gohan's education. She was originally voiced by KrisRix (one of the co-stars of Sailor Moon Abridged), but is now voiced by Hnilmik.
Voice Actors
Edit
She was originally voiced by KrisRix, but is now voiced by Hnilmik.
Personality
Edit
Strict on Gohan's homework.A very strict mom,simular to one in the original series but more crazy.
Her Personality is very unstable.
Ad blocker interference detected!
Wikia is a free-to-use site that makes money from advertising. We have a modified experience for viewers using ad blockers

Wikia is not accessible if you've made further modifications. Remove the custom ad blocker rule(s) and the page will load as expected.